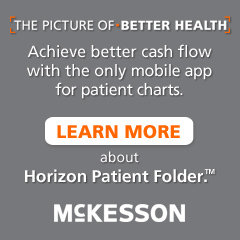 TGH Puts Patients' Records
on Computer
This report from Tampa Bay Online describes how Tampa General Hospital has made the switch to an electronic record environment.

Project Yields Pioneering
Results on Patient Data
A UK project to mine patient data for mental health research is showing tremendous promise, according to the Financial Times.



Have a coding or transcription question? Get an expert answer by sending an e-mail to

edit@gvpub.com

.




This month's selection:


When I queried the physician who did an emergency C-section about whether a particular baby was delivered stillborn or liveborn, her response was that "fetal heart rate was documented prior to C-section; therefore, baby was not stillborn. It was a neonatal death."

The baby, when delivered, was intubated and breath sounds were heard through the endotracheal tube, but no heartbeat was heard throughout the course of postdelivery.

To complicate matters, the physician who attended the baby gave a final discharge diagnosis of "intrauterine fetal demise due to placental abruption."

Do I code V27.0, V27.9 on the mother's chart?

Cindy S. Holicky, CCS
Queen of Peace Hospital
New Prague, Minnesota



Response:


Liveborn or stillborn is determined by whether the baby took one or more breaths or had one or more heartbeats after delivery. If the infant's heart and lungs quit during delivery but prior to being delivered, the infant is a stillborn (intrauterine fetal demise; assuming 22 weeks or greater gestational age; assuming not an elective or therapeutic abortion).

Read the full answer »



For The Record's online gift shop features a wide variety of items for HIM professionals for any occasion. Whether you are searching for products to give friends or colleagues, hand out to clients, or wear yourself, finding the right gifts is easy and affordable at For The Record's online gift shop. Choose from t-shirts, journals, clocks, buttons, mouse pads, and much more! Check out our secure online shop today or call toll-free 877-809-1659 for easy and fast ordering.



Dyersburg State Community College serves as a shining example of how the federal HIT workforce program is expanding the talent pool. On top of that, the school is helping bring jobs to an area that has been hard hit by the economic downturn.

Elsewhere in this issue, an expert tackles a question about how to code a neonatal death.

— Lee DeOrio, editor




HIT Dyersburg


By Mary Anne Gates

As many local jobs began to disappear, Dyersburg State Community College (DSCC) in northwestern Tennessee started looking for a way to provide area residents with new job skills.

Focusing on HIT made sense because, along with the federal EHR adoption mandate expected to create a demand for skilled workers, DSCC already had an approved HIT program in place. Additionally, DSCC could offer HIT training for free thanks to a HITECH Workforce Development grant funded by the ARRA.

"DSCC already had an accredited health information technology program and was very interested in receiving the grant due to the unemployment rate in the west Tennessee area served by the college," says Steve Robey, director of the EHR grant program.

Full Story »




A Bridge to Better Reimbursement
Proper use of modifiers can connect healthcare organizations to more accurate reimbursement. Read more »

Survivor: HIM Edition
Unless your head is buried in an ICD-10 textbook, you've no doubt heard that many HIM service and technology vendors are battling to remain relevant in today's changing marketplace. Read more »

Tick, Tick, Tick
Restlessness reigns as anxious coders wonder how they will adjust to life in an ICD-10 world. Read more »

Building Buzz for HIT
Through a new consumer-focused program, the ONC is trying to engage patients in the value of electronic health information. Read more »



Custom Consent Forms Help Patients
Better Understand Heart Procedures

Patients who received personalized, easy-to-understand consent forms before angioplasty or stent implantation better understood the procedure and the potential risks of treatment and were more engaged in shared decision making with their doctors, according to research presented at the American Heart Association's 2011 Scientific Sessions.

In the study, patients at nine treatment centers got either a personalized patient risk information services manager (PRISM) consent form or standard consent forms before undergoing procedures to open blocked heart arteries.

Read more »



MedMaster Mobility iPad App


Medmaster Mobile's point-of-care mobile app offers data capture, clinical documentation, and navigation via voice anytime and anywhere. Read more »



IBX Mobile Smartphone App


IBX Mobile lets users view their PHRs, find doctors, compare drug prices, and more. Read more »



Dictation Blue BlackBerry App


Dictation Blue allows dictations to be wirelessly received via Bluetooth, sent to a smartphone, and e-mailed. It can also create recordings with the smartphone and can come with insert and overwrite functions. Read more »



For The Record offers many flexible advertising programs designed to maximize your results. From print advertising to e-newsletter sponsorships, website advertising to custom e-mail marketing, For The Record helps maximize your investment. E-mail our experienced account executives today for more information or call 800-278-4400!

AlliedHealthCareers.com is the premier online resource to recruit HIM professionals. Post your open positions, view resumes and showcase your facility's offerings all at AlliedHealthCareers.com!