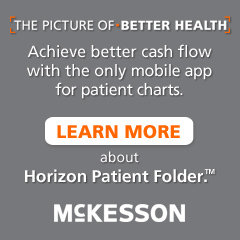 Innovation, Not ROI, Is the Benchmark for HIT
Innovation should supersede financial concerns when it comes to implementing HIT, according to this HealthLeaders Media editorial.

One Single Great EMR for All
One stupendous EMR should be able to cure many healthcare woes, says Carolyn McClanahan at Forbes.



Have a coding or transcription question? Get an expert answer by sending an e-mail to

edit@gvpub.com

.




This month's selection:


I work as a coder in an OB/GYN hospital. I came across a case where the patient had suffered a spinal cord injury one year previously and recently underwent a cesarean delivery. The indication for cesarean delivery was given as previous spinal cord injury. Please tell me what ICD-9-CM diagnosis code to assign for this case.

Shazia Maddi
Al Corniche Hospital
Abu Dhabi, United Arab Emirates

Read the response »



5Star Urgent Response App


GreatCall's 5Star Urgent Response app offers immediate connection to live, certified response agents at the push of a button in emergency situations. The agents can identify and locate you, assess your situation, and then send appropriate help, which may include assistance in dispatching 911 emergency protocols. Agents also can conference in a registered nurse, family, and friends. Read more »



CardioTeach App


Boston Scientific's CardioTeach iPad app helps physicians educate patients about cardiovascular and peripheral diseases and treatments, specifically atrial and ventricular arrhythmias, coronary artery disease, heart failure, heart rhythm disorders, and peripheral vascular disease. Read more »



AirStrip OB Mobile App


AirStrip OB Mobile app connects doctors to women in labor, putting them "at the bedside" 24/7. Physicians can remotely access up to four hours of patient monitoritng data, including fetal heartbeats, maternal contraction patters, and vital signs. Read more »



Epocrates App Directory


Epocrates' mobile drug reference is now a platform for quick access and discovery of relevant medical apps. It can help create a customizable user experience and a platform that provides clinicians with faster access to trusted drug content and serves as a way to surface rich medical content. Read more »



Five Things Every Physician Needs to Know About ICD-10 Documentation


By Stephanie L. Cecchini, CPC, CEMC, CHISP

Physicians have been told the ICD-9 sky is falling, and their practice will grind to a halt if they don't properly prepare for ICD-10. For more than a decade, physician practices have been fighting tangible tigers—stiff regulatory compliance, decreased fee schedules, and increasing expenses. The result is that tuning out the ICD-10 chatter became easy. Now, however, the time for action has arrived.

Although the impact of ICD-10 on physicians remains ambiguous for many, the bottom line is clear: There is a danger of revenue cycle performance issues, decreased productivity, and time lost from patient care. What does the physician practice need to do to minimize the effect of uncertainty on objectives?

Full Story »




Should you move forward with your planned implementation roadmap for ICD-10? Visit

PRECYSE.COM

to read our Open Letter outlining recommendations as you evaluate your plans




ICD-10 Spreads Its Tentacles


Experts agree that the effects of the transition to the new coding set will be felt across entire organizations. Read more »



App Overload


Choices abound for healthcare professionals who value mobility and easy access to data. Read more »



Proceed With Caution


Experts advise healthcare organizations to consider other factors besides cost before plunging into a speech recognition environment. Read more »



Playing the Data Breach Blame Game


Covered entities are largely responsible for the actions of business associates, making their agreements all the more significant. Read more »



By Melanie Mestas

Medical coding and billing has come a long way over the past 20-plus years and is currently one of the most vital pieces to a smooth-running medical facility. AAPC, which will hold its 20th national conference from April 1 to 4 at the Rio Hotel and Convention Center in Las Vegas, has helped expand the industry since its inception and is always looking to push the industry into the future with hot topics such as ICD-10.

The annual conference addresses the "hot button" issues in our arenas as well as reviews the concepts that are basic to the industry. This year, the lineup includes more physician presenters than ever before as well as a host of business and industry professionals who are experts in their field.

Read more »



Organizations Combine to Create HIT Company
Geared Toward HIEs

Santa Rosa Consulting, Inc recently announced that it has partnered with North Texas Specialty Physicians (NTSP) to create Sandlot Solutions, Inc, an HIT company that will develop and implement health information exchanges (HIEs) nationwide.

Sandlot Solutions will help meet the needs of a multitude of hospitals and health systems that realize the need to consolidate claims and clinical data while improving quality and disease management through advanced reporting and analytics.

Read more »



For The Record's online gift shop features a wide variety of items for HIM professionals for any occasion. Whether you are searching for products to give friends or colleagues, hand out to clients, or wear yourself, finding the right gifts is easy and affordable at For The Record's online gift shop. Choose from t-shirts, journals, clocks, buttons, mouse pads, and much more! Check out our secure online shop today or call toll-free 877-809-1659 for easy and fast ordering.



For The Record offers many flexible advertising programs designed to maximize your results. From print advertising to e-newsletter sponsorships, website advertising to custom e-mail marketing, For The Record helps maximize your investment. E-mail our experienced account executives today for more information or call 800-278-4400!

AlliedHealthCareers.com is the premier online resource to recruit HIM professionals. Post your open positions, view resumes and showcase your facility's offerings all at AlliedHealthCareers.com!