Houston to Invest $1.6 Million
in EMRs
Houston's Health and Human Services department is going to invest a nice chunk of change on EMRs, according to the Houston Business Journal.

For Secure Health Care Data,
Thwart Future Attacks
A Vanderbilt University professor says health care organizations must become proactive when it comes to securing patient data.



Have a coding or transcription question? Get an expert answer by sending an
e-mail to edit@gvpub.com.



For The Record offers many flexible advertising programs designed to maximize your results. From print advertising to e-newsletter sponsorships, website advertising to custom e-mail marketing, For The Record helps maximize your investment. E-mail our experienced account executives today for more information or call 800-278-4400!

AlliedHealthCareers.com is the premier online resource to recruit HIM professionals. Post your open positions, view résumés and showcase your facility's offerings all at AlliedHealthCareers.com!



For The Record's online gift shop features a wide variety of items for HIM professionals for any occasion. Whether you are searching for products to give friends or colleagues, hand out to clients, or wear yourself, finding the right gifts is easy and affordable at For The Record's online gift shop. Choose from t-shirts, journals, clocks, buttons, mouse pads, and much more! Check out our secure online shop today or call toll-free 877-809-1659 for easy and fast ordering.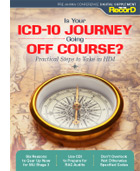 Is Your ICD-10 Journey Going Off Course?


Practical Steps to Take in HIM

Be on the lookout for For The Record's Digital Supplement featuring ICD-10 and other related HIM topics, coming next week!


Visit www.ForTheRecordmag.com/digitaleditions.

We would like to take this opportunity to thank our sponsors for their support.




CVS/pharmacy App With Drug Interaction Checker


The CVS/pharmacy app now includes a drug interaction checker feature, which allows customers to quickly and easily check for potential drug interactions by comparing over-the-counter (OTC) products with their prescriptions and other OTC medications they may be taking. Users enter the name of the product or active ingredients or they scan the UPC bar code with their smartphone camera. The checker then will compare available product details against the OTC or prescription medications that are manually entered or imported through the patient's online MyCVS Pharmacy account. The tool will identify possible interactions based on a comprehensive, continually updated database of drug information to alert users of any potential issues. Learn more »



A Secure, Anonymous Résumé Bank
Job Alerts Sent to Your E-mail

Physicians Practice iPad App
Physicians Practice, a practice management resource for physicians and medical office staff, has released the second digital issue of its free iPad application. The tablet app combines Physicians Practice's practical advice with interactive features such as podcasts, videos, and personalized checklists. The second issue provides articles, tools, and multimedia presentations to help practices better select and get the most from their technology purchases. This edition's features include a complete guide to the meaningful use program, tips for connecting with "mobile" patients, financial strategies to help practices acquire the latest technology, and apps and gadgets to improve life in and outside of the office. Learn more »



Kaiser Permanente App


Kaiser Permanente updated its flagship mobile app to feature an interactive design, more native functionality to boost speed and overall performance, and an American With Disabilities Act–compliant user interface for the hearing and vision impaired. The app offers the same tools available through My Health Manager, the organization's member portal, which enables members to e-mail their doctors, view test results, refill prescriptions, and manage appointments. Now, when members book an appointment, they can save it to their device's calendar. A map with directions to the appointment location also is embedded into the appointment details screen. Learn more »



TruClinic Telehealth Portal


A partnership between TruClinic and University of Utah Hospital's telemedicine department will enable patients and practitioners to have video-based online visits and consultations with just a computing device, an Internet connection, and a webcam. TruClinic is a cloud-based telehealth portal that enables health systems, provider groups, and specialty practices to offer online, clinically meaningful consultations to their patients through video, secure messaging, and voice-over Internet protocol. The platform helps remove the barriers of location, allowing more patients to access high quality health care. Learn more »