Hard to believe the release of information (ROI) process could get any more complicated, but with regulations being revamped and odd lawsuits such as the Ciox case making noise, that's exactly what's happening.

In such an environment, how can beleaguered and confused departments be assured their staff carry the proper skill sets? This month's E-News Exclusive summarizes an effective methodology to do just that.

The Certified Release of Information Specialist exam lends insight into whether ROI staff are on top of their game when it comes to protecting the confidentiality of patient health information.

— Lee DeOrio, editor



Using the CRIS Test to Evaluate ROI Competencies
By Mariela Twiggs, MS, RHIA, CHP, FAHIMA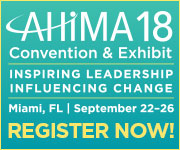 Release of information (ROI) is a complex job in HIM. There are numerous competencies that need to be mastered amid various regulations, facility protocols, EHR systems, document management systems, billing systems, picture archiving and communication systems, protected health information (PHI) disclosure management platforms, and more. Having well-trained ROI staff is critical to protecting patient privacy and avoiding missteps that can put provider organizations out of compliance, facing fines, reputational damage, and even imprisonment.

That said, it takes time to adequately train ROI staff. A typical training profile will include the following:
HIPAA, including privacy, security, breach notification, patient rights, and federal vs state law decision-making and authorization requirements;
federal drug and alcohol abuse regulations;
state laws addressing sensitive records such as adoptions, genetic information, HIV/AIDS, mental health, sexually transmitted diseases, and substance abuse, as well as special situations such as decedents, minors, and powers of attorney;
other laws such as the Genetic Information Nondiscrimination Act, the Family Educational Rights and Privacy Act, and now the General Data Protection Regulation;
HIM department functions;
health records covering common documents, encounters, and media types;
facility systems such as master patient indexes, EHRs, paper records, and other systems storing PHI;
designated record set and legal health record;
types of requests including court orders, disability, government agencies, insurance, internal, law enforcement, legal, patient, postpayment audits, research, subpoenas, and treatment; and
customer service and professional communications.
Full Story »



Ex-Employee Pleads Guilty to Illegally Disclosing Patient Info for Personal Gain


A Parkland Memorial Hospital health care worker stole the protected health information of about 100 patients and used it in a tax refund scam, reports The Dallas Morning News.



Telemedicine Opening Doors to Specialty Care for Inmates


Transporting inmates to visits with medical specialists is challenging, time-consuming, and expensive, but virtual visits eliminate these problems and improve care, according to Kaiser Health News.


Put to Use One Thing From ACDIS 2018


By Heather Hogstrom

The Association of Clinical Documentation Improvement Specialists' (ACDIS) 11th Annual Conference will be held May 21–24 at the Henry B. Gonzalez Convention Center in San Antonio. Featuring the theme "One Thing," the ACDIS conference aims to provide attendees with at least one thing they can take away from the experience and implement in the workplace.

Perhaps attendees will learn that "one thing" at one of this year's general sessions. Health care futurist Joe Flower will deliver a keynote on "Will AI Eat My Job? Healthcare 2028: The Big Reveal." David S. Nilasena, MD, MSPH, MS, chief medical officer for the Centers for Medicare & Medicaid Services' regional office in Dallas, will discuss "The CMS Quality Payment Programs — Changes for Year 2." Finally, motivational speaker Allison Massari will present "The Survival Guide to Being Human — and the Art of Happiness."

Geared toward those in the clinical documentation improvement (CDI) profession, the ACDIS conference features six concurrent educational tracks: clinical and coding, management and leadership, quality and regulatory, expansion and innovation, outpatient, and pediatric.

Read more »


App Targets Surgery Documentation


Vincari, a leader in surgical computer-assisted physician documentation (CAPD), has joined the Epic App Orchard to offer surgeons guidance during the documentation process. The Surgical CAPD solution helps surgeons capture ICD-10-specific details at the point of care. The integration with Epic brings the solution inside the surgeon's workflow by providing a seamless link to document care from within the patient record and makes it easier for IT to deploy by reducing interface work. Surgeons can easily access the solution remotely from any location. Intelligent workflow tailored to surgeons' specific needs automatically identifies information needed to keep up with and satisfy regulatory guidelines, helping to eliminate retrospective queries and avoid delays. In less than 90 seconds, a highly detailed and compliant report is created and made immediately available in the EMR for the entire care team. To save time and improve efficiency, a copy is distributed to referring physician practices and an automated charge capture report is sent to the surgeon's practice for coding and billing purposes. By capturing the required level of specificity and accuracy in documentation and streamlining coding processes from the start, Vincari Surgical CAPD helps surgeons to get it right the first time. Learn more »



Provation's Order Set Advisor Enables Real-Time Order Set Optimization


Provation has launched its Order Set Advisor, a content gap analysis feature within its Provation Order Sets solution. Intelligent and actionable, Order Set Advisor drives more effective clinical decisions and consistent patient outcomes by leveraging Provation's evidence-based rule sets to optimize the order set update process. Order Set Advisor addresses the complex organizational challenge of maintaining evidence-based order sets. It identifies gaps within existing order sets, promoting alignment with the latest evidence-based clinical content by leveraging an intelligent mapping tool. Order Set Advisor then presents actionable recommendations for web-based review, collaboration, and approval. Learn more »


A Tricky Trio


The intricacies of properly capturing pressure ulcers, BMI, and obesity can bedevil coders. Read more »



Should Patient Records Stay or Go?


Health care organizations without well-conceived retention policies may lose track and control of valuable assets. Read more »



Shopping for Data Analytics Solutions


Finding a match between organizational goals and what vendors have to offer can be challenging. Read more »



Litigation Evolves With Data Breach Scope, Frequency


Recently, a trend has developed that a significant breach is more likely to be closely followed by the filing of lawsuits. Read more »


Pivot Point Consulting Announces Strategic Partnership With Trinisys



HIT consulting leader Pivot Point Consulting, a Vaco Company, is proud to announce a strategic partnership with Trinisys, Inc, a provider of enterprise data migration, integration, and web application solutions for the health care industry.

The partnership couples the expertise of Trinisys in data migration from legacy systems to new archival environments with Pivot Point's IT advisory services and project management acumen. Together the companies help health care organizations consolidate disparate data sets into a single database that enables robust search capability and integrated go-forward engineering. Health care clients see immediate return on investment by mitigating legacy system maintenance costs as well as the risks associated with noncompliant legacy systems.

Read more »


Big Ideas in the Big Easy: Innovation Through Education and Networking


By Meagan Lawrence

The National Cancer Registration Association's 44th Annual Education Conference will be hosted in New Orleans from May 20–23. This buzzing city holds a multitude of attractions for visitors. One could attend the National World War II Museum or, for an experience closer to the city's own history, visit the New Orleans Jazz Museum. To get a feel for the city's culture, visit the French Quarter and get a plate of gumbo from one of the many restaurants around, then head to a café to try the classic dessert beignets, all without leaving the deep history of the French Quarter.

Read more »


For The Record offers many flexible advertising programs designed to maximize your results. From print advertising to e-newsletter sponsorships, website advertising to custom e-mail marketing, For The Record helps maximize your investment. E-mail our experienced account executives today for more information or call 800-278-4400!

Coming up in our June/July issue is our Summer Showcase. Contact sales for more information.

AlliedHealthCareers.com is the premier online resource to recruit HIM professionals. Post your open positions, view résumés and showcase your facility's offerings all at AlliedHealthCareers.com!



A Secure, Anonymous Résumé Bank
Job Alerts Sent to Your E-mail


For The Record's online gift shop features a wide variety of items for HIM professionals for any occasion. Whether you are searching for products to give friends or colleagues, hand out to clients, or wear yourself, finding the right gifts is easy and affordable at For The Record's online gift shop. Choose from t-shirts, journals, clocks, buttons, mouse pads, and much more! Check out our secure online shop today or call toll-free 877-809-1659 for easy and fast ordering.


Have a coding or transcription question? Get an expert answer by sending an email to edit@gvpub.com.